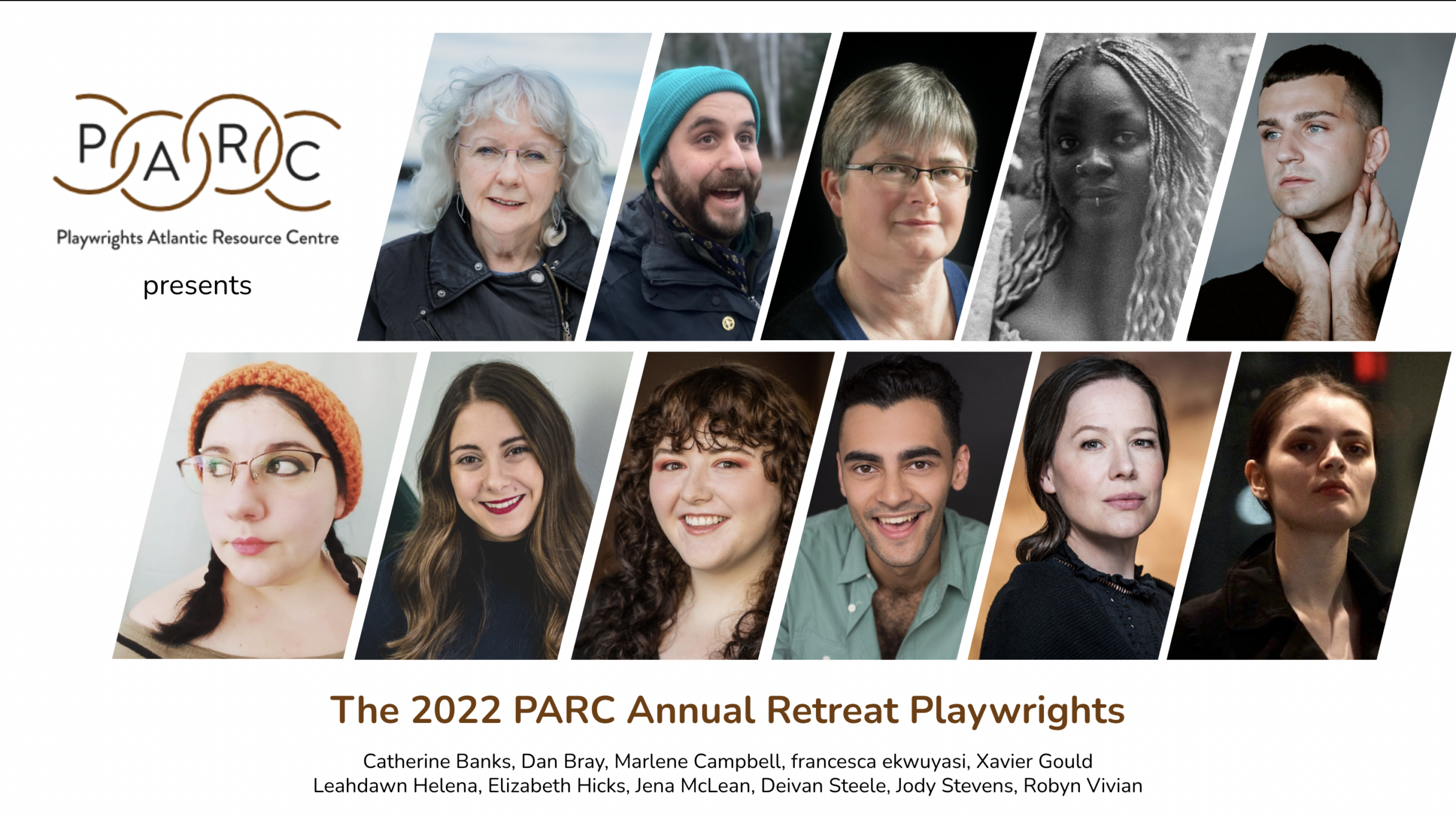 CATHERINE BANKS – The Mountain and the Valley, adapted from Ernest Buckler
Plays by Catherine Banks (she/her) have been performed across Canada and include: Miss N' Me; It Is Solved By Walking; Bone Cage; Three Storey, Ocean View; and Bitter Rose, which aired on Bravo! Canada. Her work is poetic, darkly humorous, courageous, and beautifully theatrical. Bone Cage premiered in 2007, and went on to win the Governor General's Literary Award for Drama in 2008. It Is Solved By Walking won the Governor General's Literary Award in 2012, was translated into Catalan by Tant per Tant, and was one of three Canadian plays to tour Catalonia in 2012. She is currently adapting Ernest Buckler's novel The Mountain and the Valley for the stage, and is writing a new play, Downed Hearts that is slated for production in 2023.
DAN BRAY – Deepwater
Dan Bray (he/him) is an interdisciplinary theatre and visual artist, currently living as the winter caretaker of a spooky mansion just outside Antigonish. He is the artistic director and founder of The Villains Theatre, for which he has written, adapted, and directed many plays. Most recently, his new plays Observatory Mansions and Hänsel und Gretel in: der Garten von Edible Horrors: a Terrible Parable have both been nominated for 2022 Robert Merritt awards for "Outstanding Adaptation by a Nova Scotian"; several of his original plays have also won him similar awards at the Halifax Fringe. He has had the good fortune of working with many of this province's finest companies, including Two Planks and a Passion, Mulgrave Road, Festival Antigonish, Shakespeare by the Sea, Eastern Front, Phyllis Rising, and Terra Novella. Dan has several new plays in development that are set to premiere shortly across Nova Scotia, but they're all under wraps for now…! www.brayowulf.ca
MARLENE CAMPBELL – The Conversation
Marlene Campbell (she/her) grew up in a small farming community on Prince Edward Island. As a child she loved listening to the stories of the adults around her. She has a degree in political science and has worked in a number of fields, including farming, news reporting, and cultural programming. She has written several historic books, and is the author of Vintage Christmas, Holiday Stories from Rural PEI.  As cultural programmer with Culture Summerside, the arts, heritage and culture division of the City of Summerside, she has had the wonderful opportunity to create radio dramas, historical vignettes, The Dressing Room play and To The Power of Five play, as well as the recent book, Lighting the Way: The Story of Summerside Electric 1920 – 2020.  She has two daughters and one cranky cat.
FRANCESCA EKWUYASI – A Nice Ordinary Wedding
francesca ekwuyasi (she/her) is a writer and multidisciplinary artist from Lagos, Nigeria. Her work explores themes of faith, family, queerness, consumption, loneliness, and belonging. francesca's debut novel, Butter Honey Pig Bread was longlisted for the 2020 Giller Prize, was a finalist for CBC's 2021 Canada Reads competition, the 2021 Lambda Literary Award, the 2021 Governor General's Award, the 2021 Amazon Canada First Novel Award, and the 2021 ReLit Award. Most recently Butter Honey Pig Bread has been longlisted for the 2022 Dublin Literary Award. Her writing has been published in Winter Tangerine Review, Brittle Paper, Transition Magazine, the Malahat Review, Visual Art News, Vol. 1 Brooklyn, GUTS magazine, the Puritan, Canadian Art, and elsewhere. Her story Ọrun is Heaven was longlisted for the 2019 Journey Prize. Supported through the National Film Board's (NFB) Film Maker's Assistance Program (FAP) and the Fabienne Colas Foundation, francesca's short documentary Black + Belonging has screened in festivals Halifax, Toronto, and Montreal.
XAVIER GOULD – Outfit
Xavier Gould (iel/they/them) is a multidisciplinary queer non binary acadian artiste. Their work is focused on the transformation and metamorphosis of identity. Using their own experiences as a rural trans non-binary person, they share stories of belonging and desire through poetry, performance and film. In 2017, Xavier wrote and performed their first monologue written in Chiac, at the Cabaret Factum during the Acadie Rock festival in Moncton. They then spend their next four years writing and performing various original texts at the Sommet des Femmes, at the Festival Acadien de Poésie, and at the Festival International de Slam Poésie en Acadie. Xavier also presented their first sculpture, Yelle, during the exposition Fragile by the Galerie Sans Nom in 2019 and virtually presented Shed, a duo performance art piece with Samuel Landry with the Galerie Louise-et-Reuben-Cohen at the Université de Moncton and Gaze during the New-Brunswick provincial performance art tour PERForm21. They received the Prix Viola Léger in 2019, recently won the 2021 Découverte de l'année award at les Éloizes and Le prix de la Vague for best acadian short film with their film Mona at the Festival International du Cinéma Francophone en Acadie (FICFA). Xavier has also received grants from Arts NB, Rising Youth and has participated in artistic residencies at the BANFF Arts Centre with l'Association des Théâtres Francophones du Canada, a Théâtre Residency with the Commission internationale du théâtre francophone (CITF) in Lebanon, among others. Xavier is an instrumental member of the queer acadian community. They are known for their comedic character Jass-Sainte Bourque, their drag character Chiquita Mére and as a trans liberation advocate. Xavier currently lives in Tiohtià:ke (Montréal) where they are finishing their first poetry collection, writing their second play, and dreaming of their first feature film.
LEAHDAWN HELENA – Stolen Sisters
Born and raised on the west coast of Newfoundland, Leahdawn Helena (she/they/nekm) has been involved with theatre, film and radio since her early teens, though her first and most secret love has always been writing. An actor and director by training, her most recent stage appearance was in Meghan Greeley's To The Girls at the 2021 Stephenville Theatre Festival. She also had the pleasure of directing Petrina Bromley last year in Elizabeth Hick's Hearty at 80 for Persistence Theatre. She began to pursue professional writing after receiving an award from the Newfoundland Arts and Letters competition in 2020 for her screenplay Ruthless. Proudly L'nu, and a member of the Qalipu Mi'kmaw, she also holds a BA in Sociocultural Studies and a BFA in Theatre from Memorial University, Grenfell Campus, which she puts to use as a freelance Indigenous Sociocultural Consultant for the St John's Arts community. 
ELIZABETH HICKS – Twelve Nasty Women
Elizabeth Hicks (she/her) is an actor, writer, sketch comedian, and filmmaker based in St. John's, NL. She holds a Master's degree in English and a Diploma in Performance and Communications Media from Memorial. She is currently an Artistic Associate/Playwright-in-Residence for Poverty Cove Theatre Company. As a playwright, Elizabeth has been commissioned by Artistic Fraud (The Other Side of This, 2020) and Persistence Theatre (Votes for Women 100 Project, 2021). Her first play Twelve Nasty Women was selected for the 2019 Women's Work Festival and was later workshopped by Rising Tide Theatre.  As an actor, Elizabeth has worked with many theatre companies in Newfoundland and Labrador including Perchance Theatre, Resource Centre for the Arts, Rising Tide Theatre, Artistic Fraud, and more. She writes and performs regularly with sketch comedy troupes Mom's Girls and Halfhandsome.
JENA MCLEAN – MFG (Magical Fat Girl)
Jena McLean (she/they) is a queer playwright and dramaturg with roots in New Brunswick and Alberta. Currently in residence with Theatre New Brunswick, she is a recent graduate of the National Theatre School of Canada's playwriting program. She also holds a Bachelor's Degree in English and Drama studies from Mount Allison University. Her plays include: Mythes Analogues (collective creation), Who Wants to Survive High School, Bonus Points if You Have Air Conditioning (dir.  Andrew Kushnir, NTS, 2021) A Canyon Contained (dir. Neomi Iancu Haliva, St. Thomas University, 2021), Until Tenth Grade (staged reading, dir. Dean Fleming, Geordie Theatre, 2021), An Ocean of Evergreens (dir. Nikki Vigneault, Red Panda Productions 2021, digital reading, dir. Yvette Nolan, Theatre New Brunswick, 2020), Missing Her Mother, The Freeze-Dried Groom, Paradoxes (commissioned and produced by Mount Allison University, 2017), and I Am (Notable Acts Theatre Festival, 2015). Dramaturgical credits include collective creations Mythes Analogues (Satellite Theatre) and To Those Who Wait in Fear (dir. ahdri zhina mandiela, NTS, 2021) as well as Four Aloof Sleuths by Vitta Morales. Jena is driven to create work that is rich with complex roles for queer folks and young women alike. Her plays explore life's grey areas, personalize the political, and aim to empower people to feel seen in theatre.
DEIVAN STEELE – Palany
Deivan Steele (he/him) is a South African-Canadian actor, director, and writer. His work has brought him to theatres like Theatre Direct and Eastern Front (The Assembly), Driftwood (Froxeaglousey), Shakespeare in Action (The Book of Kit and Mel, 3Tempests), Next Stage Festival (Bremen Town), Shakespeare by the Sea (Henry V, Love's Labour's, Wizard of Oz), Outside the March (programsound.fm), Bad Hats (Princess Frownsalot), Unwrap Theatre (rihannaboi95), and Prague Shakespeare Co (Two Gentlemen of Verona). He's currently developing his latest work, Palany, with support from PARC and Neptune Theatre's INKubator. 
JODY STEVENS – Time and Tide
Jody Stevens (she/her) is a graduate of the Dalhousie Theatre Program. She has 25 years of experience as a professional actor and has had the privilege of working in theatres across this country, Europe and in the United States. She is a Merritt Award nominee. Throughout her career as an actor, she has experienced the unique joy of premiering new plays and has always found that process exhilarating and rewarding. As an emerging playwright, she is thrilled to be engaged in the beginning stages of this process with her own work, with such a prestigious organization and amid such incredible artists. Jody is originally from Prospect Bay, Nova Scotia and currently resides in Halifax with her lovely husband and two amazing daughters.
ROBYN VIVIAN – Lights Out
Robyn Vivian (she/her) is a theatre artist and writer currently based in St. John's, NL. She holds a BFA from Memorial University. Select performance credits include: Other Worlds (Geordie Theatre), Sideshow Absurdica (Under The Bridge Productions), The Kraken (Under The Bridge Productions/Salt Teeth Theatre Co./RCAT), The Tales of Dwipa (White Rooster Theatre/RCAT), I want that free mind! and Cross Stitch (Power Productions/lemonTree creations), and Drinking Again (RCAT). Playwriting credits include: Equinox (in development), Lights Out (Theatre Perimetric), Deeper (workshopped with TODOS Productions and again soon with Page 1 Theatre/OutFest), and SNATCH (Theatre Perimetric). Her digital short BURROW, produced by Eastern Front Theatre in Halifax, was released under their Micro Digital Creation Project series, and was presented again at CB Nuit. Robyn has also written columns for The Tempest and Riddle Fence.