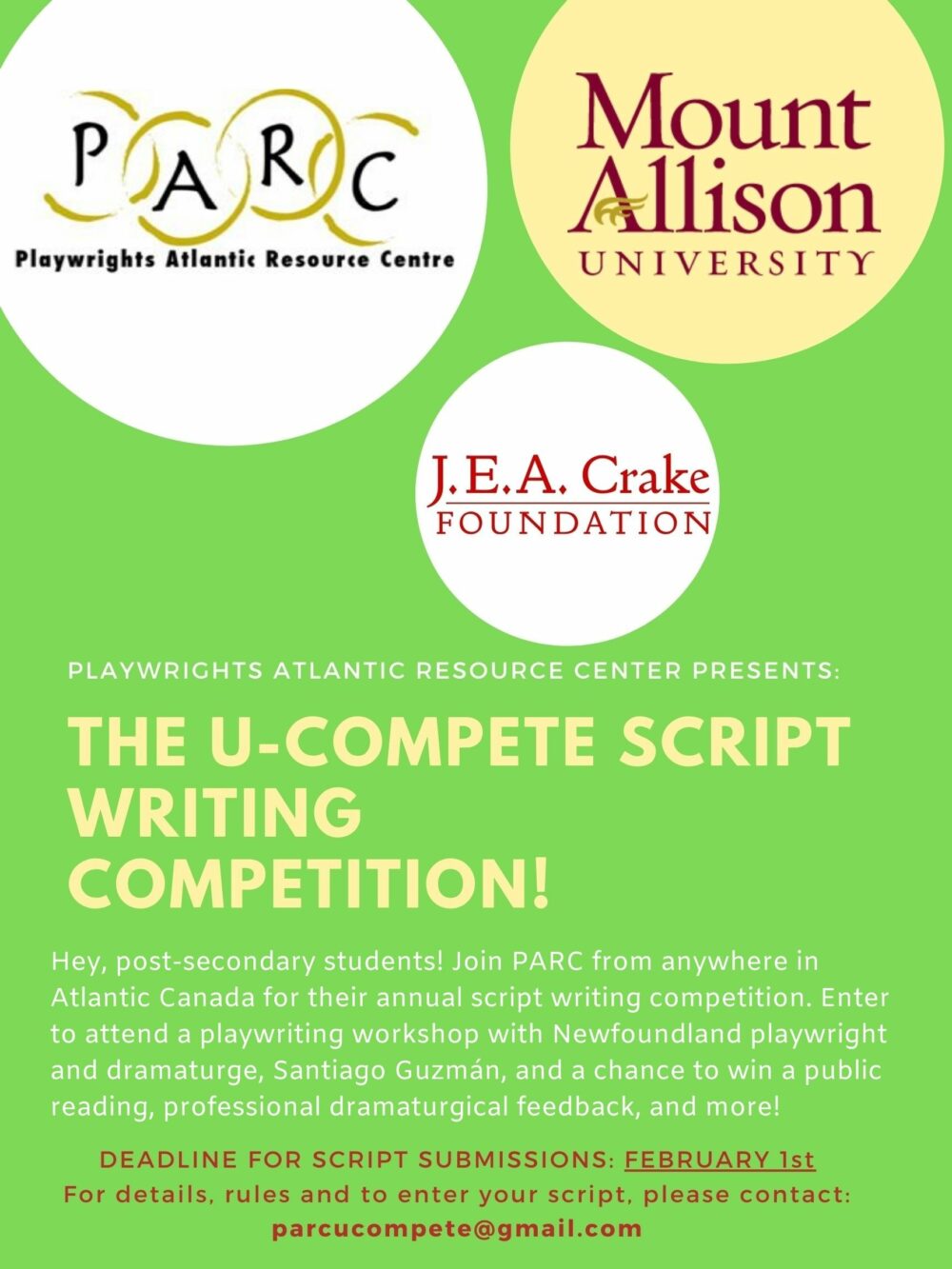 Engaging with students
U-Compete is a playwriting competition presented by Playwrights Atlantic Resource Centre (PARC) open to post-secondary students* from Atlantic Canada. Participants will submit a short script to PARC, and a winning script will be selected from each Atlantic province.
All playwrights participate in a playwriting workshop by PARC Artistic Associate, Santiago Guzmán.
Each winning script will receive dramaturgical feedback and a rehearsed public reading on PARC's Facebook page.
One script will be selected as the overall winner, and a professional dramaturgical session will be awarded to the successful playwright.
Script Guidelines
Page numbers: No minimum, maximum 25 (please number them)
Font: Any legible font (Times New Roman, Arial, Courier, etc.)
Font Size: 12
Margins: 2.5 inches on all sides
Spacing: 1.5
Timeline
Submission Deadline: February 1st, 2022.
Playwriting Workshop with Santiago Guzmán: February 16th, 2022
Provincial Winners Announced: March 1st, 2022
Online Public Reading and Overall Winner Announced: March 16th, 2022
Fee
There is a $15 fee to participate in U-Compete. This fee will grant each applying playwright a Student PARC Annual Membership and access to Santiago Guzmán's Playwriting Workshop.
How to participate
Sign up here, and send your completed script to us at parcucompete@gmail.com.
Please note
PARC is committed to facilitating any requested accessibility needs for registration or for the contest itself (time flexibility, language, etc). Our goal is to support the students on their journey throughout the competition and we want to make it fun!
* Submissions from high school students will also be accepted.