Landmarks in PARC's History: over 30 years of supporting Atlantic Canadian playwrights and theatre.
1990
Playwrights Union of Canada held an Atlantic Regional Meeting and playwrights Cabaret in Halifax. Discussion among playwrights indicated the strong need for development, support and profile.
1991
Playwrights Atlantic Resource Centre was founded by Wanda Graham. Membership was organized and the first MOVEABLE FEAST Playwrights Colony took place in Parrsboro, NS. The Home Delivery Project was initiated.
1992
Derek Martin became administrator and introduced a regular newsletter.
1993 – 1997
PARC proceeded on a project to project basis, run by a volunteer Board under the leadership of several different presidents including Charlie Rhindress, Krista Wells, Paula Danckert, and Gyllian Raby. Despite a reduction in programming and activities, PARC continued its annual event, the MOVEABLE FEAST Playwrights Colony.
1997
Jenny Munday was hired as an administrator on a part-time basis and an office was established in Guysborough, NS.
1997 – 2001
The Home Delivery Program was re-instated and new programs were created including a reading series and a regular e-bulletin.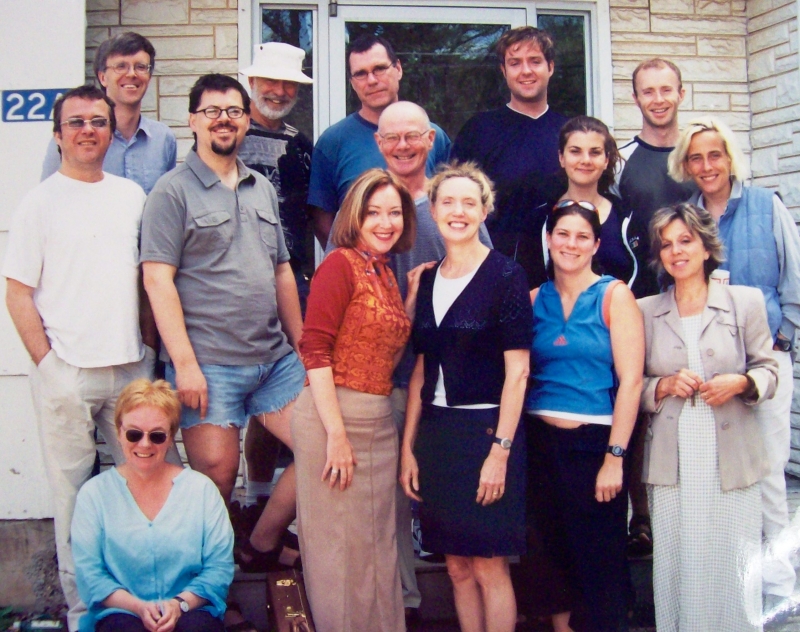 2002 – 2003
The first Three Year Strategic Plan was adopted and put into effect. PARC became instrumental in initiating the National Network of Playwrights' Development Centres.
2004
PARC was granted charitable status. The Kitchen Table Reading Series and Script Development workshops were introduced.
2004 – 2006
PARC's staff structure evolved to include a part-time Artistic Director and a General Management service provider. A Board Governance Manual of Policies and Practices was developed for the first time. PARC began collecting and recording administrative records to be donated to the Dalhousie University Theatre Archives. Lifetime memberships were awarded to Wanda Graham, Wendy Lill, Charlie Rhindress, Kent Stetson and Anne Chislett.
2006 – 2007
Mount Allison University in Sackville NB provided PARC with space to establish a library of Atlantic Canadian plays. While PARC was based out of Halifax NS, the annual Playwrights Colony found a permanent home at the University. An annual Playwrights conference was initiated which included an AGM, a Playwrights Cabaret and professional development workshops, the first being held in Parrsboro NS, and then annually in Halifax in the fall.
2008 – 2010
Operational funding from the Canada Council, Provinces of NB and NS supported most of the core programs and services, though additional project funding was still required for the Colony. The JEA Crake Foundation began funding a student intern position at the PARC Library. A new part-time position was created to handle membership, communications and promotions service, including the e-bulletin. A New Handbook for Board Members was developed. A new annual fundraiser, Salon du PARC was initiated.
2011 – 2012
Norm Foster was awarded an Honorary Lifetime membership. A succession plan for senior staff and board members was developed with support from the Canada Council Flying Squad program. An annual Cabaret in Fredericton NB was re-instated.
2013 – 2014
Daniel McIvor awarded Lifetime membership. Positions of Program Coordinator and Artistic Associate were created.
2017
Jenny Munday stepped down in May of 2017 after almost 20 years as Artistic Director. As per succession plan, Pamela Halstead was hired as Artistic Director. An expanded position of Communications, Library and Membership Coordinator was created. Jenny Munday and former Artistic Associate, Don Hannah, were awarded Lifetime memberships for their long service to PARC.
2020
PARC goes almost completely online due to global pandemic. Santiago Guzmán appointed Artistic Associate with a focus on Diversity Initiatives. Let's Talk and Uno a Uno Programs for BIPOC artists launched.
2021
PARC celebrates its 30th anniversary. PARC Colony renamed the PARC Retreat. Lifetime memberships awarded to Catherine Banks and Mary Vingoe. Interviews done with a number of members about what 30 years of PARC means to them. An extensive interview conducted with Jenny Munday, long time Artistic Director. Jenny Munday passes away on June 10, 2021 after a battle with cancer. PARC announces the creation of The Jenny Munday Atlantic Play Award.