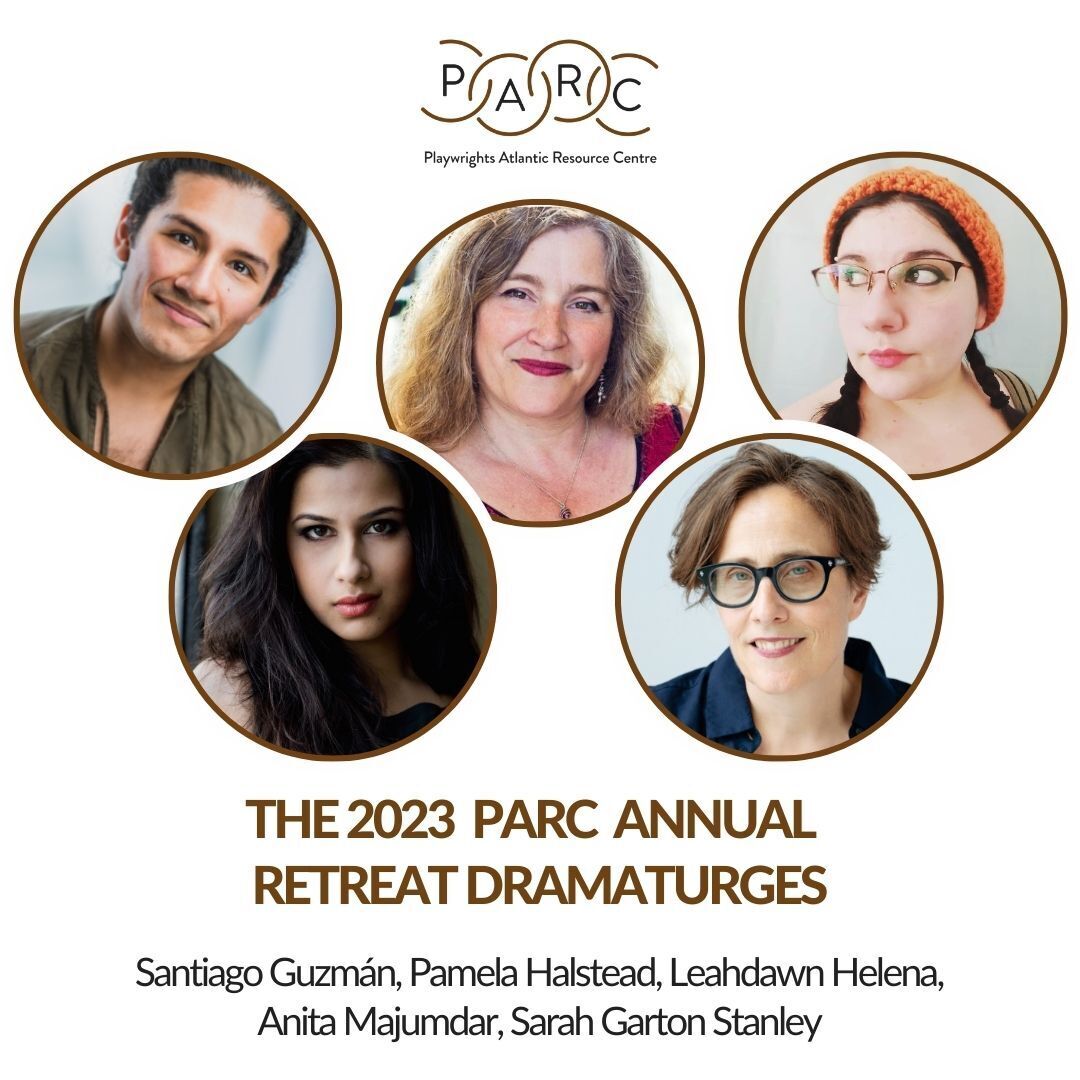 PARC is thrilled to announce the dramaturges for the 2023 PARC Retreat at Mount Allison University in Sackville, NB from May 7-21, 2023!
Santiago Guzmán (he/they) is an award-winning playwright, performer, director and dramaturge originally from Metepec, Mexico, now based in St. John's, NL. He is the Artistic Director of TODOS Productions and the Artistic Associate for Playwrights Atlantic Resource Centre. in St. John's, NL. He is a proud member of The Quilted Collective.
As a dramaturge, Santiago has focused on supporting equity-seeking, emerging writers to tell their stories, as there is a need in our community to see these stories on stage. Through his theatre company, TODOS Productions, he has supported several pieces in development alongside Robert Chafe in the 2020 and 2021 TODOS' Writing Unit. They have participated as lead and assistant dramaturge at PARC's 2021, 2022, and 2023 Playwrights' Retreat (pan-Atlantic), and has offered dramaturgical support through PARC's Home Delivery program. Santiago was the dramaturge for the Fundy Fringe Festival in NB in 2020 and Plain Site Festival (NB) in 2021 and has offered dramaturgical support to Theatre New Brunswick (NB). He co-dramaturged with Natércia Napoleão CAHOOTS Theatre's Playwrights Unit (ON), Hot House Crossing in 2022, and recently was a dramaturge of the 2023 Women's Work Festival (NL). Santiago worked with Halifax Theatre for Young People as a dramaturge on Newcomers: Stories of Refugee and Immigrant Children.
As an immigrant, queer, and artist of colour, Santiago believes that representation matters.
www.sguzman.ca
Pamela Halstead (she/her) is a director, dramaturge, actor, teacher and arts administrator. She has worked across Canada in a number of capacities. Having started her career training at Dalhousie University, she spent the next decade working primarily as an actor and teacher until focusing her path more towards directing and dramaturgy. During this time she apprenticed under numerous directors exploring a variety of processes including: Dean Gilmour, Bob White, David Kenney, Ruth Smillie, Ron Jenkins and Sarah Stanley.
As a dramaturge she has worked for the Banff Playwrights Colony, the Suncor Stage One Festival, the Saskatchewan Playwrights Centre's Spring Festival of New Plays, Alberta Playwrights Network and PARC, as well as for a number of individual artists. Her freelance directing work has taken her across the country and includes Neptune Theatre, Alberta Theatre Projects, Chemainus Theatre Festival, Lunchbox Theatre, Theatre New Brunswick, Ships Company Theatre, Valley Summer Theatre, Quest Theatre and Onelight Theatre. She is Artistic Producer for DMV Theatre in Halifax and Co-Executive Director of Valley Summer Theatre in Wolfville. As well, Pamela is currently the Program Coordinator for PERFORM!, a program that sends professional artists into Nova Scotia schools to work with students, enhancing education through the arts.
Leahdawn Helena (she/they/nekm) is a two-spirit L'nu writer and theatre artist with roots on the west and southwest coast of Ktaqmkuk. Rumor has it she was a little too good at lying as a child, and was encouraged to put her imagination to better use through writing instead. Trained as both an actor and academic, holding a BFA in Theatre and a BA in Sociocultural Studies, she received a NL Arts and Letters award in 2020 for their first screenplay Ruthless. Their next major work, Stolen Sisters, made its stage debut in August of 2022 in St. John's, through PerSIStence Theatre Company, with dramaturgy provided by PARC. Her work features themes of indigeneity, the lives of women and girls, family dynamics, the unknown, and the sometimes exhausting nature of being human.
Anita Majumdar is an award-winning actor, playwright, dancer and digital visual artist who graduated from the National Theatre School of Canada and holds a Bachelor of Arts at the University of British Columbia in Theatre, English and South Asian Languages. A student of kathak, odissi and bharatanatyam classical Indian dances, Anita has danced and choreographed contemporary hybrids of these forms for over two decades. She's acted in leading roles internationally and domestically for 18 years, from the Belfry Theatre in B.C., to the Stratford Festival in Ontario to Neptune Theatre in Nova Scotia. As a playwright, Anita was awarded Canada's Governor General's Protégé Prize in playwriting where she was mentored by John Murrell and was one of 50 artists invited to celebrate the Canada Council for the Arts 50th Anniversary. She has also been a writer in the Tarragon Writer's Unit, the Cahoots Hot House Writer's Unit, playwright in residence with Nightswimming and been invited to attend the Banff Playwright's Lab on multiple occasions. Her most produced and toured work, The Fish Eyes Trilogy, is published with graphic illustrations by Playwrights Canada Press and in 2017 she completed her Master of Arts in Theatre and Performance Studies at York University. As well, she was the recipient of Dora Mavor Moore Awards for Outstanding New Play and Outstanding Performance (Boys with Cars, Nightswimming/Young People's Theatre) that same year. Recently, Anita completed a recording of The Fish Eyes Trilogy for Expect Theatre/CBC's PlayME will be broadcast on CBC Radio 1 in Spring 2023. Currently, Anita is working with Nightswimming in Toronto where she is commissioned to write a new work, A Girl Has No Gym.
Sarah Garton Stanley is a theatre Director, dramaturg, and Ph.D. Candidate in Cultural Studies at Queen's University, SGS, from Montreal, now lives on the unceded and ancestral lands of the Mi'kmaq in Southwest Nova Scotia.
During her tenure as Associate Artistic Director of English Theatre at Canada's National Arts Centre, she led The Cycle(s): a 7-year project dedicated to transformation in Canadian Theatre and The Collaborations: a curatorial adventure that supported theatre artists in their home communities creating work that could profoundly impact national conversations about, and presentations of, great theatre. She is co-founder of SpiderWebShow: the first digital first theatre company in Canada and FOLDA, an internationally recognized festival dedicated to live digital art. She also co-founded the Baby Grand Theatre, was the 1st female artistic director at Buddies in Bad Times and was the inaugural artistic associate for The Magnetic North Theatre Festival.
This award-winning artist has won and been nominated for several theatre awards and was the recipient of the Literary Managers and Dramaturgs of the Americas' Elliot Hayes Award, Honorary Member Award for Canadian Association for Theatre Research and was recently named a 2022 Arne Bengt Johansson Fellow at The Banff Forum in PEI. Her current research creation project Massey & Me: Conversations at the End of Theatre is a series of thought events referencing the CBC Massey Lectures. This critical reflection explores the genealogical, political, and administrative structures that house professional theatre in Canada.