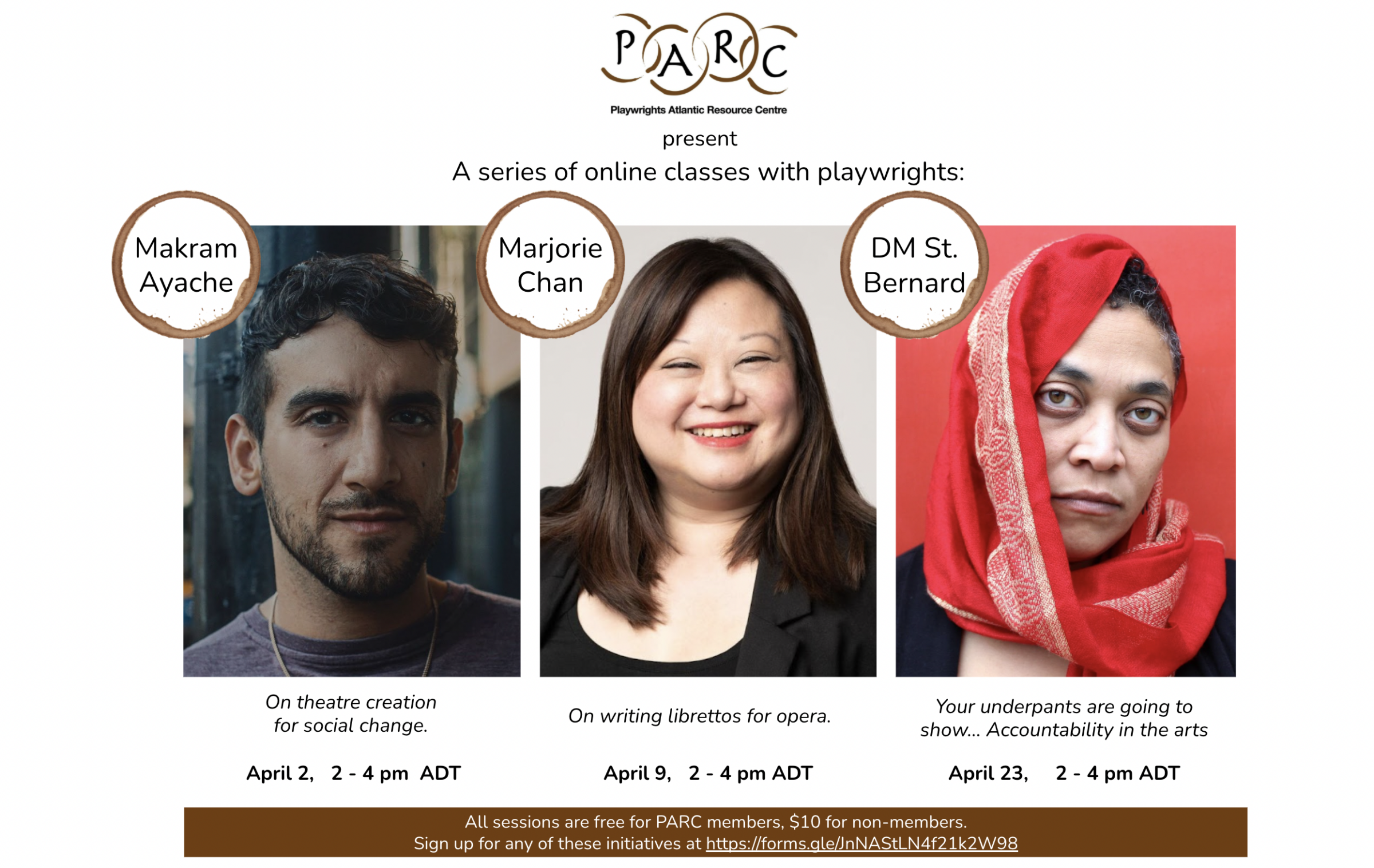 PARC Presents A Series of Online Professional Development Opportunities
A highlight of 2021 was the thrilling success of our professional development series with playwrights Bilal Baig, Yolanda Bonnell, Carmen Aguirre, Sunny Drake and Marcia Johnson.
In 2022, we bring you a new group of fabulous artists:
New Date! April 2 – Makram Ayache – Theatre Creation for Social Change
Makram's class will focus on the function of theatre creation for social change through the many variables in the process – everything from working with people from marginalized experiences who have never had the chance to play robust and complex characters, to invoking emotional and thoughtful complexity within an audience.

April 9 – Marjorie Chan – On Writing Librettos for Opera
Join librettist Marjorie Chan for a fun, interactive session engaging in the form of contemporary opera. Whether you have always been curious about writing for opera, or want a new way to dive into your existing text writing, this class will include active listening and writing explorations. All are welcome!
April 23 – Donna-Michelle St. Bernard – Accountability in Art: Your Underpants are Going To Show……
or, if you prefer, the truth will out.  If our values are revealed in the stories we tell, let us choose to be intentional, accountable and real.  I have a few ideas and a heap of questions about how to craft plays we can stand behind.  Join me at the junctions of art/activism intent/impact implied/implicated complicit/complicated.
Sessions are free for PARC members, $10 for non-members.
Bios:
Makram Ayache is a community-engaged writer, actor, director, and producer living between Edmonton and Toronto. His playwriting explores representations of queer Arab voices and aims to bridge interlocking political struggles to the intimate experiences of the people impacted by them. Ayache is the 2020 PGC's Tom Hendry Award recipient for his play Harun. He has four Elizabeth Sterling Haynes Awards nominations for Harun (2018) and "The Green Line" (2019). In 2020, he worked with several theatre companies including Factory's Mechanical Actors' Enhancement Training, the Citadel's RBC Directing Mentorship Program, Punctuate's Partizan's Creators Unit, Prime Mover/Musical Stage Company's NoteWorthy Program, and Generator Toronto's Artist Producer Training Program. Most recently, he began a large-scale interdisciplinary project that examines the "mythology of Capitalism" through the Historic Joy Kogawa House Artist-in-Residence program in Vancouver. Next year, he returns to Factory Theatre to continue developing the play through the Foundry Program, with support from Edmonton Fringe Theatre Adventures. He is also a playwright in Alberta Theatre Projects 2021/22 Playwrights Unit. His play The Hooves Belonged to the Deer will be part of Buddies in Bad Times' Theatre's audio-drama season in 2022 with director Peter Hinton-Davis. And he is thrilled that his play The Green Line will have its world premiere in Calgary through Downstage Theatre and Chromatic Theatre with director Jenna Rodgers.
Find him at: www.makramayache.com and insta: makramrayache
——————————————————————————————————–
Marjorie Chan was born in Toronto to Hong Kong immigrants who arrived in the late 60s. As a theatre and opera artist, she works variously as writer, director and dramaturge as well as in the intersection of these forms and roles. Her work has been seen and performed in the United States, Scotland, Hong Kong, Russia and across Canada. Her full-length works as a playwright include the plays Lady Sunrise, The Madness of the Square, a nanking winter, Tails From the City, as well as the libretti for the operas, Sanctuary Song, The Lesson of Da Ji, M'dea Undone, The Monkiest King and upcoming in 2023, The Nightingale of a Thousand Songs. Some of the companies Marjorie has directed for include: Gateway Theatre, Cahoots Theatre, Native Earth Performing Arts, Theatre Passe Muraille, Obsidian Theatre and Theatre du Pif (Hong Kong). Marjorie has been nominated for 9 Dora Awards and is the recipient of four (3 for libretti, 1 for performance). She has also received the K.M. Hunter Artist's Award in Theatre, the Entertainment World Award for Best New Work, a Harold Award, the George Luscombe Award for Mentorship as well as recently the Bra D'Or for her support of female writers. Other notable nominations include the John Hirsch Directors' Award, the Governor General's Literary Award for her playwriting debut, China Doll, and the Canadian Citizen Award for her work with Crossing Gibraltar – Cahoots Theatre's program for newcomers. She has been artist-in-residence with Factory Theatre, Banff Playwrights' Lab, Tapestry Opera, Cahoots Theatre, Theatre Centre (with 6th Man Collective), Theatre Direct Canada, SUNY (Geneseo, New York) and Theatre du Pif (Hong Kong). Upcoming work includes The Year of the Cello created with Music Picnic and composer Njo Kong Kie. She balances her writing with her role as the current Artistic Director of Theatre Passe Muraille in Toronto where she places access, community, innovation and collaboration at the forefront of the company's approach.
——————————————————————————————————–
Donna-Michelle St. Bernard aka Belladonna the Blest is an emcee, playwright and agitator. Her main body of work, the 54ology, includes: Cake, Sound of the Beast, A Man A Fish, Salome's Clothes, Dark Love, Gas Girls, Give It Up, The Smell of Horses, Diggers and The First Stone.  Other offerings include TYA (Reaching For Starlight, Geordie Productions) libretti (Oubliette, Forbidden and Nucleosynthesis, Tapestry Opera) collaborative works (They Say He Fell with Nir Bareket for Pandemic Theatre, The House You Build with Circle of Voices for Saskatchewan Native Theatre Company) and weird reflections (Thoughts Residency, Spiderwebshow).  DM is currently the emcee in residence at Theatre Passe Muraille, associate artist at lemonTree Creations, artistic director of New Harlem Productions, coordinator of the AD HOC Assembly, and of play development at Nightwood Theatre and Theatre Aquarius.