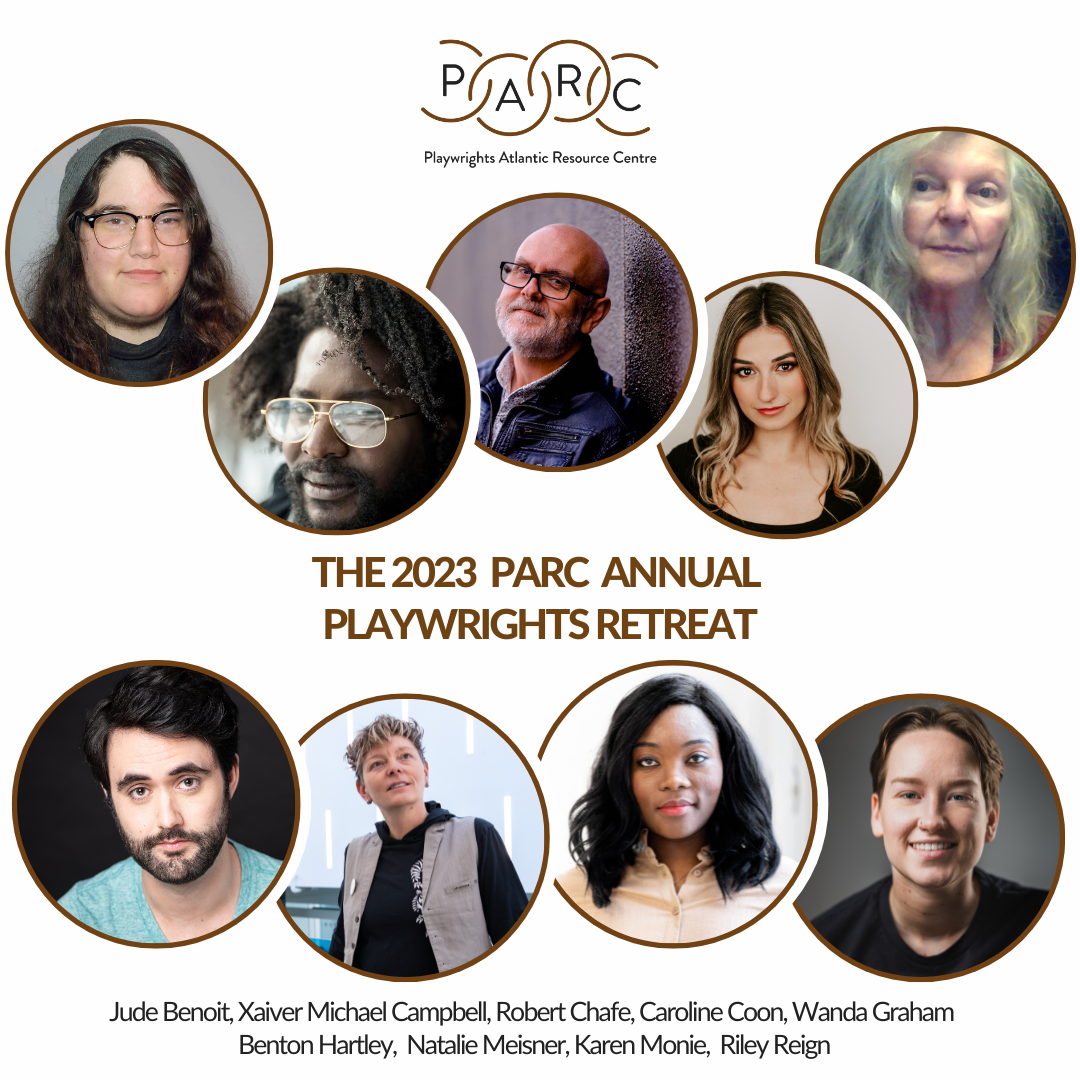 PARC is thrilled to announce the playwrights for the 2023 PARC Retreat at Mount Allison University in Sackville, NB from May 7-21, 2023!
Jude Benoit is a Two spirit interdisciplinary artist. They are an emerging playwright, a long-time protest art activist, a spoken word poet, storyteller and published author. They have often woven and drawn inspiration from their trans rights and environmental activism. They are Mi'kmaq from Ktaqmkuk, with both maternal and paternal lineage from Mi'kma'ki.
Born and raised in Jamaica, Xaiver Michael Campbell has considered Newfoundland and Labrador home for over a decade. These islands are quite different, but Xaiver feels that living in Jamaica, prepared him for life on the Rock. Minus the snow, sleet and lack of sun – the people are equally warm and friendly. When not writing, doing childcare, baking, playing or watching basketball, Xaiver loves the outdoors and can be found swimming in the ponds all across the Newfoundland in the summer, camping and hiking the East Coast Trail. His fiction has been published in The Malahat Review, Riddle Fence, and the anthologies, Us, Now and Hard Ticket by Breakwater Books and Release Any Words Stuck Inside You III by Applebeard Editions. His second play, One Name is currently being workshopped by Halifax Theatre for Young People. Xaiver's non-fiction work concerns the lives of enslaved and freed Black people in early Newfoundland settlements.
Robert Chafe is a writer, educator, actor and arts administrator based in St. John's, Ktaqmkuk (Newfoundland). He has worked in theatre, dance, opera, radio, fiction and film. His stage plays have been seen in Canada, the United Kingdom, Australia and in the United States, and include Oil and Water, Tempting Providence, Afterimage, Under Wraps, Between Breaths, Everybody Just C@lm the F#ck Down, and The Colony of Unrequited Dreams (adapted from the novel by Wayne Johnston.) He has been shortlisted three times for the Governor General's Literary Award for Drama and he won the award for Afterimage in 2010. He has been guest instructor at Memorial University, Sir Wilfred Grenfell College, and The National Theatre School of Canada. In 2018 he was awarded an honorary doctorate from Memorial University. He is the playwright and Artistic Director of Artistic Fraud.
Caroline Coon (she/her) is based in Fredericton, New Brunswick. She is a graduate of Randolph College for the Performing Arts and has a BA in Dramatic Arts from Brock University. She also recently completed her Graduate certificate in Sexual Health through the University of Alberta. She is an actor, writer, and producer, who hopes to help cultivate the thriving theatre scene in NB and encourage more young people to pursue their artistic paths on the East Coast. Recent stage credits include The Sound of Music (Capitol Theatre), The Wickhams: Christmas at Pemberley and Miss Bennet: Christmas at Pemberley (Theatre New Brunswick), Legally Blonde (Branch Out Productions), and Cabaret (Randolph College). It Happened at a Party is her first script and has been supported through NotaBle Acts, and TNB's Fall Festival of New Plays.
Wanda Graham is founder and Honourary Lifetime Member of Playwrights' Atlantic Resource Centre. She was presented with Nova Scotia's first Established Artist Recognition Award Theatre. Playwright residencies include Stratford, Banff, Factory, Neptune, Playwrights Workshop Montreal, Women's Work Festival St. John's, Mulgrave Road and PARC's Playwrights Retreat. Kill Zone a love story was invited to international conferences in Boston and Stockholm. Her TV documentary, Military Wives shut out shut down aired regionally, nationally and at the Atlantic Film Festival. She won the CBC-Linda Joy Script Award at the Atlantic Film Festival for Wall of Silence and her Radio Documentary Lost in the Music – the David MacDonald Story was nominated by CBC for an Atlantic Journalism Award. Current projects include The Heart of Things a spoken-word opera with composer John Plant, production Heat Theatre 2023; Three times seven poems with German-Austrian actor, puppeteer, Michael Pöllmann; an opera collaboration with composer, John Plant.
Benton Hartley is a Charlottetown-based playwright, actor, director, and producer. His scripts have been performed across Prince Edward Island, including stops at Kings Playhouse in Georgetown, the Guild in Charlottetown, and the Island Fringe Festival where his play Cowardice won the PARC award in 2021. His script for The Dance received PEI Arts Grant funding in 2021, culminating in a public reading. As an actor, Benton has appeared in three seasons at Victoria Playhouse, most recently as Cameron in Open Casket, Open Mic written by Lindsay Kyte, Terra Spencer, and Garry Williams, and directed by Pamela Halstead.
Natalie Meisner is a playwright and poet from the Mi'kma'ki /South Shore of Nova Scotia and served as Calgary/ Mohkinstsis 5th Poet Laureate. She combines survivor comedy with hopepunk in the service of social change. It Begins in Salt (2023) and Baddie One Shoe (2019) are spokenword poetry. LEGISLATING LOVE: THE EVERETT KLIPPERT STORY is based on the true story of the beloved Calgary bus driver instrumental in decriminalizing homosexuality. SPEED DATING FOR SPERM DONORS was a hit at Lunchbox & Neptune. Double Pregnant: Two Lesbians Make a Family topped non-fiction lists and My Mommy, My Mama My Brother & Me is her children's book about a two-mom biracial family finding community. She is a wife, mom to two great boys and a Full Prof at MRU. She joins PARC playwright's retreat to work on her play SUBHUMAN.  A play inspired by the true story of LGBTQIA2S+ women who served in the Royal Canadian Navy, listening for Submarines off the Atlantic Coast. 
Karen Monie is a Cameroonian editor, writer, director and actress whose work spans across film, theatre and television. Formerly cast in Jenna Turk's Remants, Karen has showcased her stageplays Masquerade & Those Left Behind at the Women's Work Festival and St. John's Short Plays Festival. In 2019, her first short film Common Law premiered at the Nickel Independent Film festival. Aya and the Masquerades will be Monie's first children's play, produced by White Rooster Theatre. The female identity, nature, culture and faith are themes she loves to explore, and her style is richly influenced by foreign cinema and animation.
Riley Reign is an interdisciplinary artist, creator and activist based in Kjipuktuk, with their Masters in Musical Theatre Performance from the Royal Conservatoire of Scotland. As an actor their recent credits include Syd in Hailey Rose (Feature Film), Dawn in Deeper, Jess in I Am Not A Hero (Feature Film), and Jane in So Not Punk Rock. As a writer and composer they recently created brainstorm – a song cycle highlighting the inner world and cyclical nature of bipolar disorder, first commissioned by Eastern Front Theatre as part of their Macro Digital's:Connections. They are most known for writing and composing Here, Queer & Mentally Unclear – a semi verbatim musical about mental illness in the 2SLGBTQIA+ community, first commissioned by Upstart Theatre for DARE Festival, London, Eng, and writing and co-producing the award winning fundamentals of compassionate care – online training tool.